Current Offerings
bradsbikes.net, LLC is a licensed motorcycle dealer in Georgia, and Georgia buyers will be charged the appropriate sales tax on instate purchases, except consignments from individuals, which are NOT sales by or through bradsbikes.net, LLC. Many of the below bikes are consignments from around the country, so please email me for contact information for the seller. The representation of consignments on the website are only by referral to the individual seller: if you purchase a consignment, you are purchasing that bike from that individual, NOT from bradsbikes.net, LLC. We take no responsibility for the actions or inactions, or representations of, any consignment sellers representing a motorcycle on this website.
There are no warranties expressed or implied on any bike available for sale on this website, and any representations offered should not be relied on as absolute, especially regarding mechanical or cosmetic conditions.
Featured Bike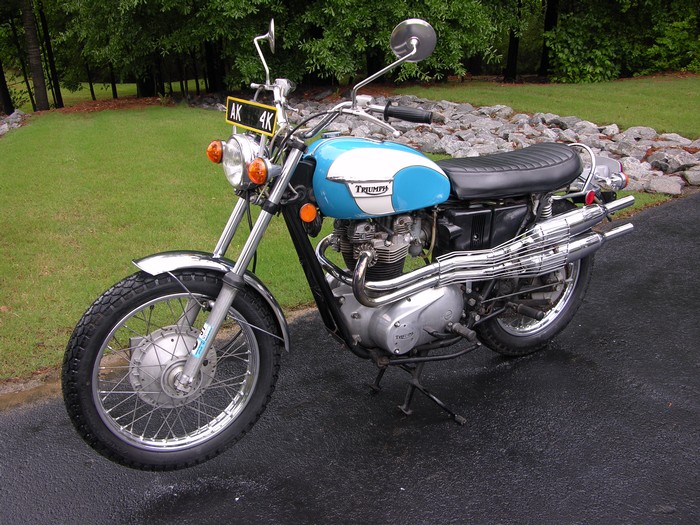 1971 Triumph TR6C - UK import, very nice condition, just serviced and runs great - $4500

< Prev | 1 | 2 | Next >

1964 Yamaha YG-1 - Beautiful bike very nicely restored, totally fresh motor - $2200.

2007 Schwinn Scooter - Close to mint with only 30 miles, 49cc so no tag required - $750.

1998 Moto Guzzi Centauro Sport - Gorgeous example with 6,000 miles, the Bubs sound terrific, it is a Bad Boy Bike - $6700

1966 Harley Davidson XLCH - Very Nice resto, just serviced and runs excellent - $9500

1985 Harley Davidson XLX - All original except some nice updates like twin plugs and double front discs, 11k, runs great - $6000

1982 Yamaha XJ650R Seca - Rare find: never serviced, started, or ridden, 1.5 orig miles, factory low bars and rearsets, one year only model - $5900

2008 Royal Enfield Bullet 500 - Excellent example with 4k, last year of iron barrel, many upgrades including e/start -$3000 SALE PENDING

1992 Yamaha TDM 850 - Great rider with 12k, many upgrades including suspension, Corbin, SuperTrapps - $3000

1967 Triumph TR6C - Gorgeous after complete restoration, just fully serviced - $12,500

1985 Honda VF1000R - Gorgeous original condition with 8k miles, just had major service and battery - $7500

1960 Triumph TR6C - Gorgeous restoration on a hard-to-find bike - $12,500

1983 Honda CB1100F - Gorgeous original example with 15k, new battery and period correct tires, and major service - $7500

1987 HD XLCR - yes, this was in Hot Rod magazine in Dec 87, what the bike should have been, real sharp, fast and brakes - $8500

1965 Honda CT90 - Great example with 1200 miles, runs great, nice repaint - $1500

1977 BMW R75/7 - Great all original condition, 30k, runs great with nice options - REDUCED $3500

2003 BMW GSPD 650 - Paris Dakar with 10k, just serviced and runs excellent - $4900

1991 BMW GSPD 1000 - Excellent condition with 56k, valves done at 45k, new battery, hard BMW boxes plus extras - $7500

1959 Triumph Bonneville - Hard to find this first model year in original, running condition, great patina - $20,900

1972 Triumph TR6R - Totally restored cafe, ALL new, 750 bigbore, half race cam, etc, etc, absolutely gorgeous - REDUCED $8500

1963 Honda CL72 - Very hard to find 250cc model, just serviced, runs great - $3300 SALE PENDING

1966 BSA Victor 441 Special - Nice rider, fully serviced and runs great, has a few dents, needs chainguard - $3400

1972 Triumph Bonneville 650 - Great 5speed rider that was properly stored 7 years ago, will need servicing but ran fine, has good compression - $2500

1975 Honda XL175 - Excellent original unmolested example, only 2579 miles, runs great and everything works as it should - $1950

1958 BSA Super Rocket - Completely restored, absolutely gorgeous, includes factory 4 gal tank in candy red and chrome - $11,500

< Prev | 1 | 2 | Next >
Please note that prices listed are firm, we don't haggle so please don't try. Even on consignments, I tell sellers upfront to put their best price on the bike, and what you see is what you get-it's priced right for what it is. Keep in mind that if you purchase a consignment, you are purchasing from that individual seller, not from bradsbikes.net, LLC. We take no responsibilty for any bike purchased from an individual, as to how it is represented from a mechanical, cosmetic, or overall condition.
If a motorcycle is listed as SIOS, the seller is Soliciting Indications Of Interest. Please email Brad for further details on these. Be realistic on offers, this isn't ebay, silly offers will be ignored.