bradsbikes.net, LLC is a licensed motorcycle dealer in Georgia, and Georgia buyers will be charged the appropriate sales tax on instate purchases, except consignments from individuals, which are NOT sales by or through bradsbikes.net, LLC. Many of the below bikes are consignments from around the country, so please email me for contact information for the seller. The representation of consignments on the website are only by referral to the individual seller: if you purchase a consignment, you are purchasing that bike from that individual, NOT from bradsbikes.net, LLC. We take no responsibility for the actions or inactions, or representations of, any consignment sellers representing a motorcycle on this website.
There are no warranties expressed or implied on any bike available for sale on this website, and any representations offered should not be relied on as absolute, especially regarding mechanical or cosmetic conditions.
Featured Bike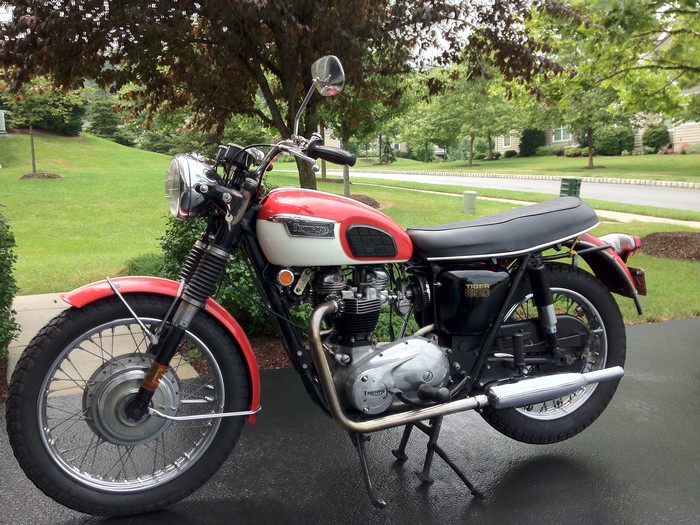 1970 Triumph Tiger 650 - Very nice example, many mechanical upgrades since sold here in 2009, 6k, runs great - REDUCED $5900

< Prev | 1 | 2 | Next >

2000 Moto Guzzi Quota 1100ES - Great example with 6k, just serviced, new tires, three hard boxes - REDUCED $4000

1971 Norton Fastback 750 - Nice example with fresh motor and paint, Grimeca front brake, runs great - $9500

1986 Suzuki GSXR 750 - Great original example with 1279 miles, a few scuffs and will need service - $3500

1957 Triumph TR6 - Very nice older restoration, 10K since, balanced motor, very correct and desirable - $9500

1972 Triumph T100R - Very nicely restored 500, just serviced and runs excellent - $5600

1967 Yamaha U5E - Great original step-thru with 3515 miles, just refurbished and runs great - REDUCED $1600

1977 Montesa Cota 346 - Malcolm Rathmell Replica, restored to ride, just serviced and runs excellent - $2100

1977 Maico AW400 - fully restored including motor, this brute just needs tank decals installed - $3500

1977 Bultaco Sherpa T350 - Model 199A, fully restored as a very nice rider, motor by Mobley, everything new including Sammy Miller tank - very nice - $3500

1966 Norton 750 Café - No expense spared on this custom, superb details and runs excellent - $13,500

1968 Yamaha YCS-1 - 180cc, all original, one owner with 1100 miles, e/start works! - $1800

1969 Triumph Trophy 250 - Nicely restored 116 miles ago, just serviced and runs excellent - $2700

1975 Suzuki RL250 - Nicely restored as a rider, little use since, runs excellent - $1800

1967 Triumph T100R - Tiger 500, very nicely restored and runs excellent - $5700

1976 Husqvarna WR125 - Very nice original example of a hard to find model, easy start, runs like a 250 - $1600

1974 Bultaco Pursang 250 - M120, great restoration, very correct and runs excellent - $4900

2000 Kawasaki Sherpa 250 - Excellent original condition with 4200 miles, runs great - $2800

Ossa Flattracker - Great example from the 70's, Redline frame, DMR tank, nicely restored with fresh motor - $3000

2004 HD Sportster 1200 - Great orig shape with XR Supertrapp, sounds great, 10k - $4900

1965 Honda S65- Totally original with 1416 miles, complete to the enclosed chain, runs great - $900

2004 Honda Dream 50 - Brand new, never started or run, mint and gorgeous - $5500

< Prev | 1 | 2 | Next >
Please note that prices listed are firm, we don't haggle so please don't try. Even on consignments, I tell sellers upfront to put their best price on the bike, and what you see is what you get-it's priced right for what it is. Keep in mind that if you purchase a consignment, you are purchasing from that individual seller, not from bradsbikes.net, LLC. We take no responsibilty for any bike purchased from an individual, as to how it is represented from a mechanical, cosmetic, or overall condition.
If a motorcycle is listed as SIOS, the seller is Soliciting Indications Of Interest. Please email Brad for further details on these. Be realistic on offers, this isn't ebay, silly offers will be ignored.